Creator Self Signup Page is Live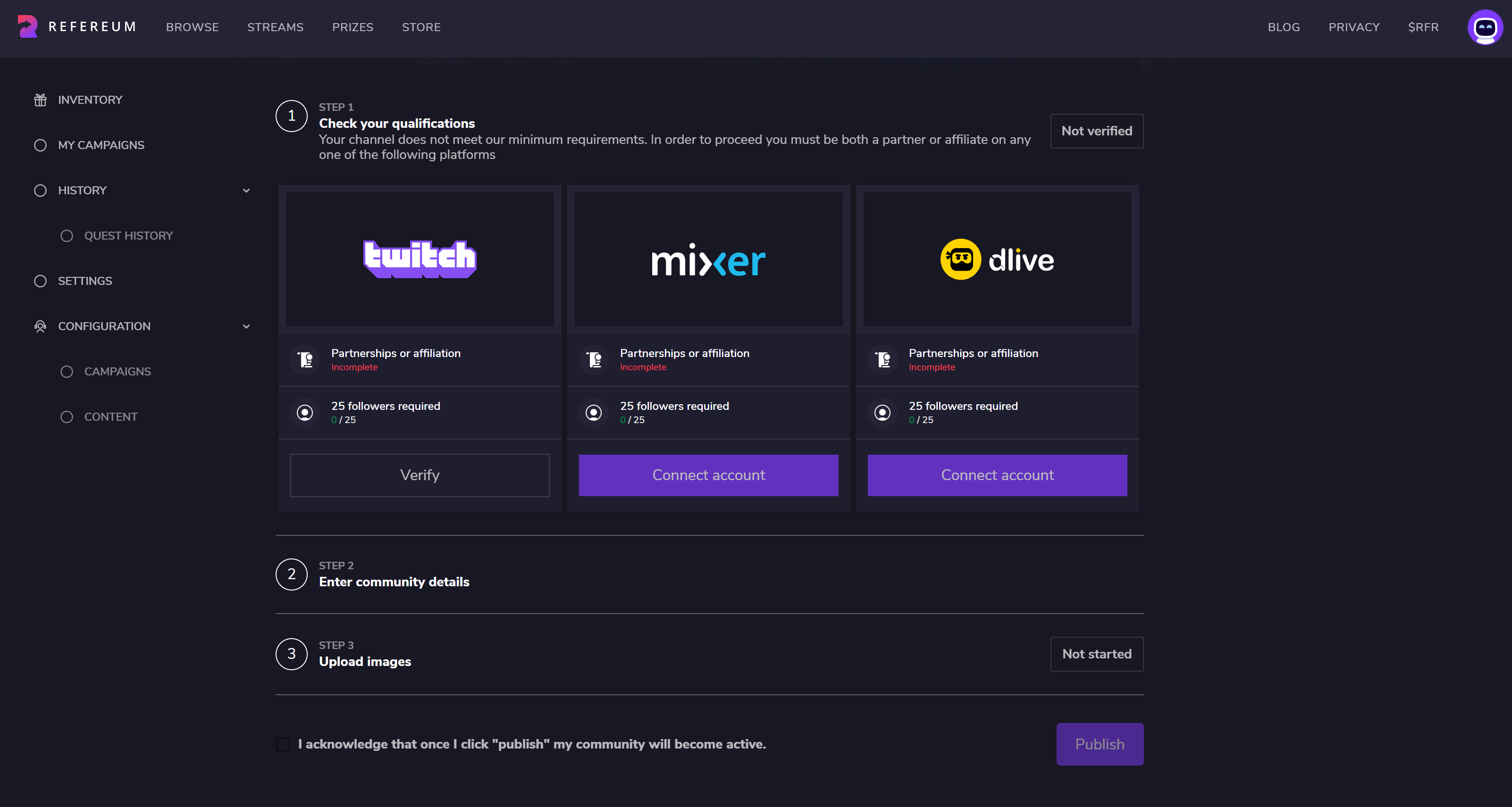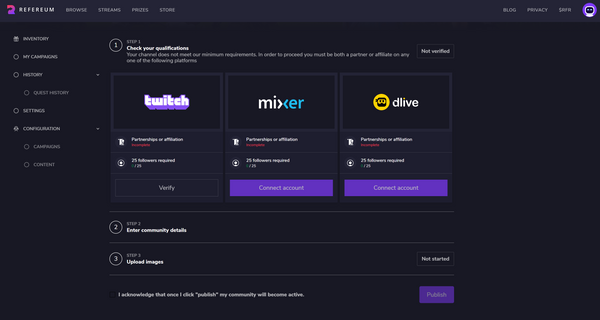 We're excited to announce that the creator self-signup page is live for all users to check out! The creator self-signup page is a major milestone for the Refereum platform - it allows creators on Twitch, Mixer or DLive to come to refereum.com and automatically create their own personalized hub. Along with the creator self sign up page, we've also introduced a new rewards structure for referring content creators to refereum.com.

Ready to get started with your own hub? Check it out here! https://refereum.com/creator-join

Features of the creator self-signup page include:
Create self-signup page - Creators log in with their Twitch, Mixer or DLive account to verify their identity.
Automatic Hub creation - Creators fill out basic details about their hub and it is automatically created for them and goes live on refereum.com
Quests are automatically created allowing their viewers to join their hub and be rewarded for interacting with them on their streaming platform of choice.
Refereum Crates are automatically awarded to their viewers for just tuning into your streams.
Promotion Hubs - Creators will automatically be added to promotion hubs from our game partners allowing them to earn new quests/crates from these partners that will show up on their hubs. Creators must complete tasks (eg have x followers or stream game y) to access these promotion crates.


Why should you apply for your own hub on the self-signup page?
Increase viewer retention by rewarding them for tuning in to your streams!
Play games from new and upcoming game partners!
Receive free rewards for doing what you love - streaming and building a community with your viewers!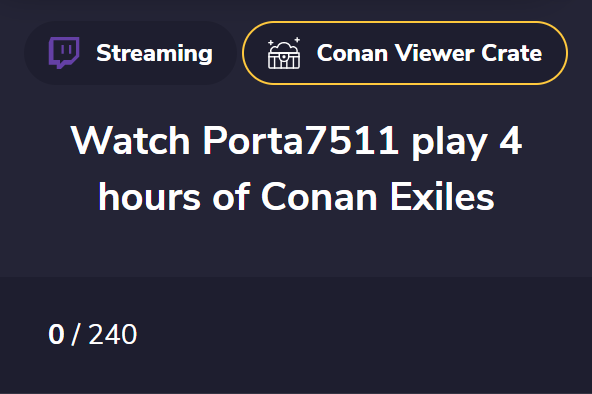 Referral Program Rewards Structure:
Refer an existing content creator on Twitch, Mixer, or DLive and receive RFR for each successful creator recommendation. The rewards structure is split into 5 tiers:

Tier 1: 25 - 1000 followers - receive $5 RFR
Tier 2: 1,001 - 5,000 followers - receive $10 RFR
Tier 3: 5,0001 - 20,0000 followers - receive $20 RFR
Tier 4: >20,000 followers - receive $100 RFR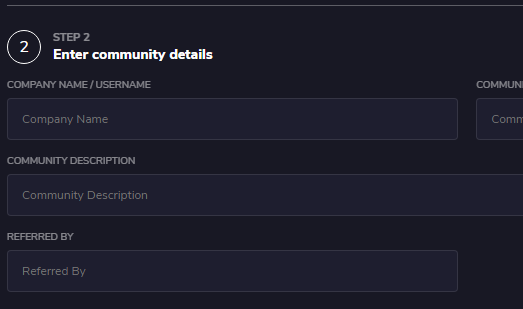 A successful hub recommendation means the creator you recommend successfully completes two months on the hub. Refereum will pay half of the bounty upfront and and the second half will be paid once the creator completes two months on the Refereum platform.

The creator self-signup page has been an engineering feature that we have been working on, which we have recently discussed in our 2020 Q1 Roadmap. With the conclusion of the Creator Self Signup Page, we've completed a new engineering milestone from our roadmap, along with finishing creator dashboards:
Creator dashboards - creators joining Refereum will have a self-serve page allowing them to quickly create and put their hub live immediately. Creators will also be able to manage their hub content and customize their Refereum hub.

A lot of new features are still to be released in the following quarter and we cannot wait for you guys to see what we have in store!

What is Refereum?
Refereum is a games rewards platform that rewards you for doing what you love — playing and engaging with your favorite games. By joining a hub on Refereum, you can earn prizes for completing quests — whether it's streaming a specific game or referring your friends, you'll accumulate points that can be redeemed for rewards.
If you've got any questions about getting started with Refereum or you're looking for a new group of friends to game with, hop into our Discord — we're super excited to have you join the Refereum community. We can't wait to reward even more gamers for doing what they love.