Refereum announces Community Growth Engine partner, Rupie Network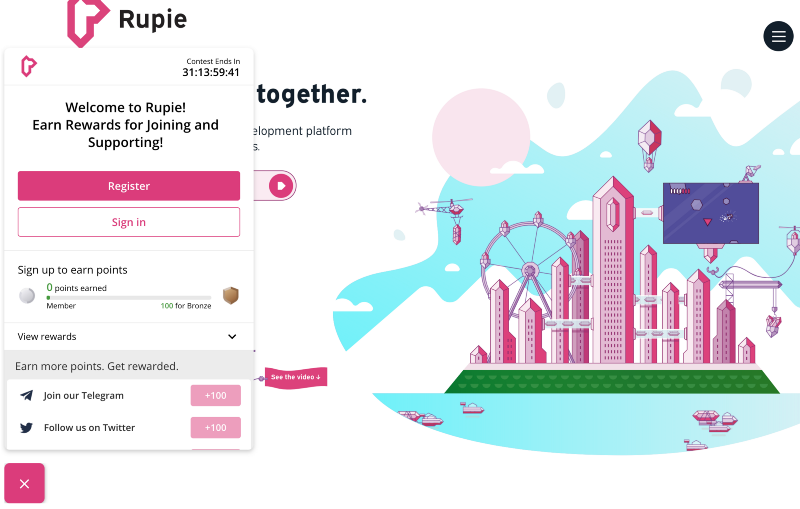 We first announced the Growth Engine a few months back, then we told you more about how it works. Now, it gives us great pleasure to announce one of our first Growth Engine partnerships with Rupie Network.
But first, what is the Growth Engine?
It's a turn-key solution ideal for any crypto-company, or game studios, to use for growing, mobilizing, and rewarding their communities. The Growth Engine widget allows Refereum partners to directly reward their most active community members for organic engagement and referrals with tokens and other prizes.
How does it work?
The GE widget is embedded on the partner's website with just a few lines of code. Setup is easy and designed to deploy a series of micro-tasks for users that are fun and easy to do. Each task is aimed at strengthening the relationship between the company and its members while growing community. Partners can also amplify their content schedule by syncing it with the Growth Engine and incentivizing the sharing of fresh content. To further incentivize engagement, partners can set a deadline for when a set of activities must be completed by.
Why did we build it?
One of our goals at Refereum is to align the Growth Engine with projects we deeply care about to build and retain communities — our belief is a rising tide raises all ships. By decentralizing community development success stories across the industry, we move the blockchain industry forward towards mainstream adoption.
"The entire Refereum team and community understands just how important the problems Rupie Network is trying to solve for the game industry. Transparency in game development is something we all strive for, and we're excited to work closely with Rupie towards a more equitable industry. We're excited Rupie is using our Growth Engine and we know that this is just the start of a long relationship between both our initiatives to build a better game industry."
-Dylan Jones, Founder/CEO @ Refereum
What is Rupie Network?
Rupie Network is a video game talent and asset tracking platform designed to accelerate game development. Built from the ground up with game developers in mind, Rupie aims to solve some of the most pressing issues in the video game industry — hiring, royalties, and funding — with a talent-driven services marketplace that empowers developers to earn and build effectively.
What challenge is Rupie set out to solve?
An unprecedented surge of developers are now coming forward with incredible game ideas. Yet somehow, only 25% of these projects actually see the light of day. It's not for a lack of passion — the entire industry is fueled by it. The truth is, for years, developers, big and small, have struggled to acquire funding, attract talent, manage project timelines, and build communities.
What is Rupie's solution?
Rupie has developed a network where developers can build alongside fellow content creators and game supporters to accelerate the game development process with fairness and transparency. We do this in a few ways:
Game devs can take advantage of the Rupie talent network to bankroll or speed up projects
Earlier game devs can hit the ground running with integrated project management and community support tools.
Game devs can give life to their titles with tiered game funding
To unify it all, Rupie harnesses a blockchain security and asset tracking protocol to ensure contributors get compensated for *everything* they create, whether an asset is bought, rented, or reused.
What kind of community is Rupie's team aiming to build?
Rupie's priority is to serve game developers and their projects, so we are hard at work building tools designed to connect game developers to each other and the projects they're working on. As those connections forge, Rupie will also be building tools to help developers build their communities of game-playing fans.
"Refereum's community focus is very much in line with our core value set at Rupie. We are both building tools to inspire the community to share and create together. I am excited to leverage their first community rewards tool and look forward to collaborating in the future."
- Austin Anderson, Founder/CEO @ Rupie Network
Check out the growth engine in action on rupie.io. And, if you are a game developer currently building a title, sign up for early access to the Rupie Network beta!
To learn more about how you can use Refereum's Growth Engine, contact us at: growthengine@refereum.com