New games available for purchase on Refereum.com + MORE POINTS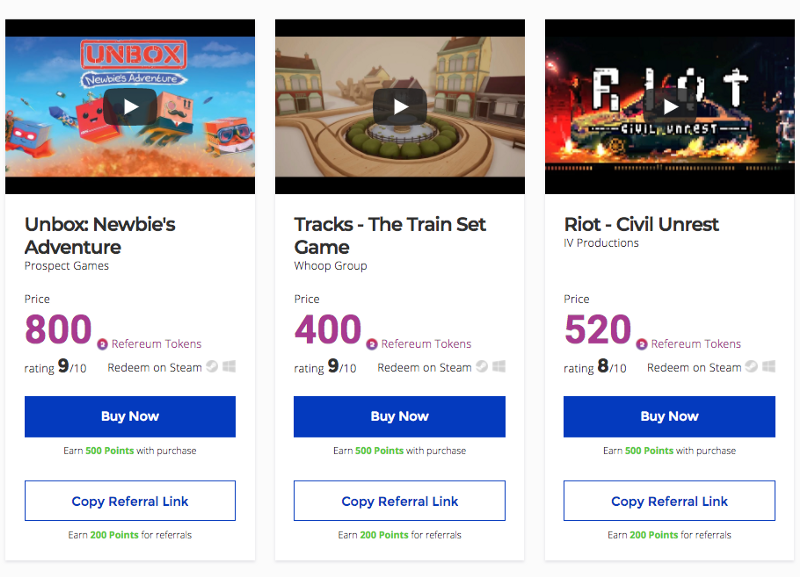 Ask and ye shall receive: we added 3 new games that you can now buy with RFR! We'll be adding new games regularly, so check the games page daily. Thanks for your patience while we scale up the game buying process. There are lots of exciting things to come!
Season 3 is well underway, and it's gotten off to a great start so far! So now's as good a time as any for…
MORE POINTS!
We increased the number of points you get from buying a game from 50 points to 500 points! And the points for a referral from 50 to 200!
Also, we made it so if you buy a game on your own without a referral link, the person who referred you will get the referral bonus of 200 points! So if any people who you already referred to Refereum buy games, you will automatically get 200 points, unless they use someone else's referral link first.
Gas price
For the best experience, please check ETH Gas Station before buying a game. Please do not skimp on the gas price. If the gas is too low, the transaction will fail and the gas you used will be gone. Please keep in mind that the required gas price changes every day depending on ETH network congestion. So if 1 gwei worked for you last week, that doesn't mean it will work today. We're doing our best to update the MetaMask default with the current required gas price, so when in doubt, just use the default gas limit and price.
New games
We'll be rotating titles every few days, so these games might not be here forever! If you want them, don't wait too long. If they aren't your style, just wait for the next batch!
Unbox: Newbie's Adventure
"Unbox: Newbie's Adventure is a 90s style 3D platformer about the ultimate postal service, self-delivering cardboard boxes! Unbox: Newbie's Adventure has giant worlds full of challenges, collectibles and boxy boss battles!"
"Game of the year, box of the year!"
— Simon, Yogscast
Tracks: The Train Set Game
"Jump aboard the nostalgia-train! Tracks is the ultimate wooden train game. Construct train sets without rules and transport commuting passengers. Build an elaborate railway system and then ride it in first person, from the train cab."
'A wonderfully relaxing way to spend a bit of downtime'
— Eurogamer
Riot - Civil Unrest
"As civil crisis deepens and inequality tears the very fabric of society the discontentment of the masses manifests itself in violent public disturbances and civil disorder. Play as the police or the angry horde as RIOT — Civil Unrest places you in some of the world's most fractious disputes."
"…the strikingly beautiful pixel art lends some serious weight to the game's portrayal of chaos in the streets."
— Destructoid