Hype week, #RefereumReview, and our Head of Partnerships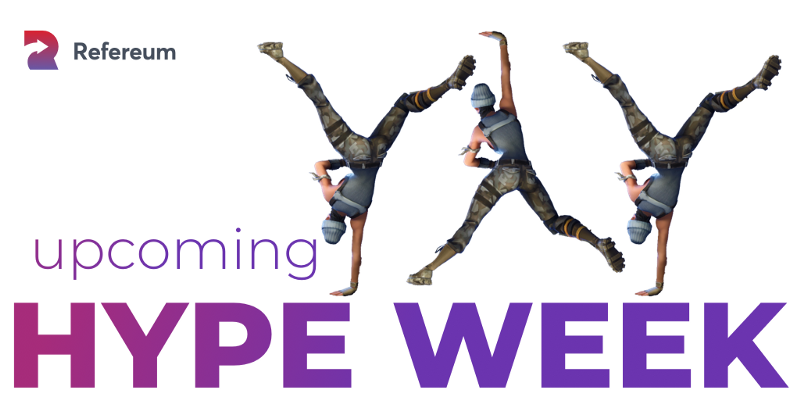 Get hyped for Hype Week
So in Refereum-is-delivering-awesome-stuff-news today, we're officially announcing the advent of our Hype Week series.
Each Hype Week will be a game-dev-sponsored seven day online tournament. We'll be creating a leaderboard that rewards streamers for things like audience game purchases, stream time, and audience size.
Our Hype Weeks are going to be amazing opportunities for streamers try out hot, new games and to earn glory and RFR for their streams.
Follow us on Twitter for news when we launch.
*NEW* Refereum Review
Refereum is also starting a new thing that we're calling Refereum Review. #RefereumReview is an AMA-style hang out between one of our team members and the community.
Last week, Dylan made a guest appearance on Down to Quest, a streamer powerhouse channel, to update the community on Refereum's progress (and to geek out on games).
Our first #RefereumReview was a total success. The next Refereum Review is with Mak&Cheese, this Friday the 13th at 12:00pm PT.
Follow Mak&Cheese for the next #RefereumReview
Meet Team Refereum: Sloane, Head of Partnerships
Many of our community members might already know, but it's about time we officially introduce Sloane Earl. Sloane is in charge of Refereum partnerships and brings a wealth of gaming knowledge and connections to the table.
Sloane Earl, Head of Partnerships
"It's great to finally be in a position to fully engage with my network. I have the opportunity to expand new technology in gaming while also propelling the trajectory of Refereum. I now have a compelling reason to work with the key players I've grown to like and respect in the industry!"
Dylan Jones, Founder of Refereum
"Sloane has been a long time industry friend and has already provided so much value to Refereum's ecosystem, we're all so excited to have her spend more time with us."
💜 Team Refereum
Subscribe to our Medium for weekly updates.
---
Visit our platform: Refereum.com, where you can buy games from the blockchain
Join our Discord community of 43,000 of gamers and crypto enthusiasts
Follow us on Twitter, to learn the latest news about Refereum