Hype Week details revealed! Stream to win a Battlefield V closed alpha key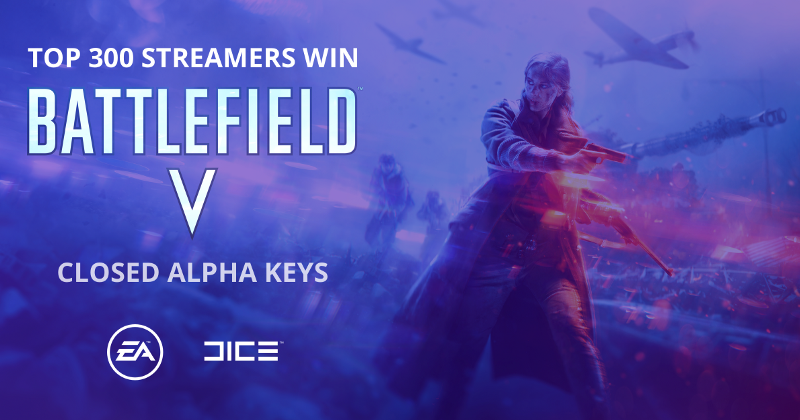 That's right. We have access to coveted, rare CLOSED ALPHA KEYS! Just for our Refereum streamers.
As you, our loyal tribe, know…we're spending this summer creating and experimenting. While we take all of the love you've poured into us and funnel it straight to our developers so they can build build build, we've also been out hunting for rare opportunities. This means we will be doing some things that are out of the ordinary. In this case, we have been at the whim of the legal red tape of a huge corporation and haven't been able to give you more than just a few teasing hints until now. BUT we get to bring you an incredible opportunity that will bring more streamers AND even bigger partnership opportunities for our community in the future. Keep this in mind as you read through the rules and regs on the Hype Week page here!
We have teamed up with EA DICE, the AAA studio that has been leading the industry with the Battlefield franchise since 2002, to bring you this hype week 3.0. It's FAST, less than two days of streaming to get on the leaderboards and into the second round for the Alpha Keys.
Here's how it works this time around…
Battlefield Hype Week will be one quest with 2 rounds. You must get on the leaderboard and stay on the leaderboard for any of the 3 titles (and no, you can't win more than one key!) to be moved into Round 2.
Round One Rules
Stream Battlefield 1, Battlefield 4 and/or Battlefield Hardline from Wednesday, June 27th at 9am PDT to Thursday June 28th midnight PDT. 100 keys are available to win for each title, 300 in total, to get to Round 2. Bring your buddies so you can all play in Closed Alpha together! Refresh your filthy brains or send any Refereum n00bs to our help desk article to learn about how to get started.
Round Two Rules
The top 300 winners from Round One can stream Closed Alpha, the Round 2 game, from June 29th at 4pm PDT until July 2nd at 11:50 PDT to compete for rare swag from our partners at EA DICE.
Top 3 streamers get a BFV swag kit (worth $300+)
Top 5 (successive) get a BFV shirt (make your friends super jelly/agro)
Top 12 (successive) get a BFV pin (flaunt it at E3/at work/at your wedding)
Only a carefully selected group of people get to enter into the world of Closed Alpha, so bring your A game. And your favorite rifle. Maybe a parachute.
The Fine Print.
To be eligible for this quest, you must be an active Refereum user, have Twitch activated on your profile and be in the specific countries our partners have approved. Your hours streamed and the amount of views you have add up to your total hours watched score for the leaderboard. You won't be earning any points for engaging in this specific EA DICE/Refereum competition, but you will be able to stream in freakin' Battlefield V Closed Alpha. So there is that.
Like we said, while we never plan on geo-restricting, giving you announcement jitters or removing the ability to earn points, it can be a slow process getting totally integrated with these behemoth companies. So bear with us, and celebrate with us, as we continually shape Refereum into everything you've ever dreamed of.
What else can you salivate over?
How about some Battlefield 1 keys. We will be giving some of our most active members keys, as well as those who engage with our Battlefield Trivia Bot in Discord, which will be running the entire week!
Also…we see you out there. You uber nerds, you mega fans who make memes and clips and spread the word on your social channels and make great Refereum content. We have our eyes on you and we love mutual back scratches.
If you haven't signed up for Refereum, but want to participate in this hype week and up your interweb cred by at least 100x, sign up on refereum.com!