Gamers! Showcase Your Best Plays With Refereum and Framerate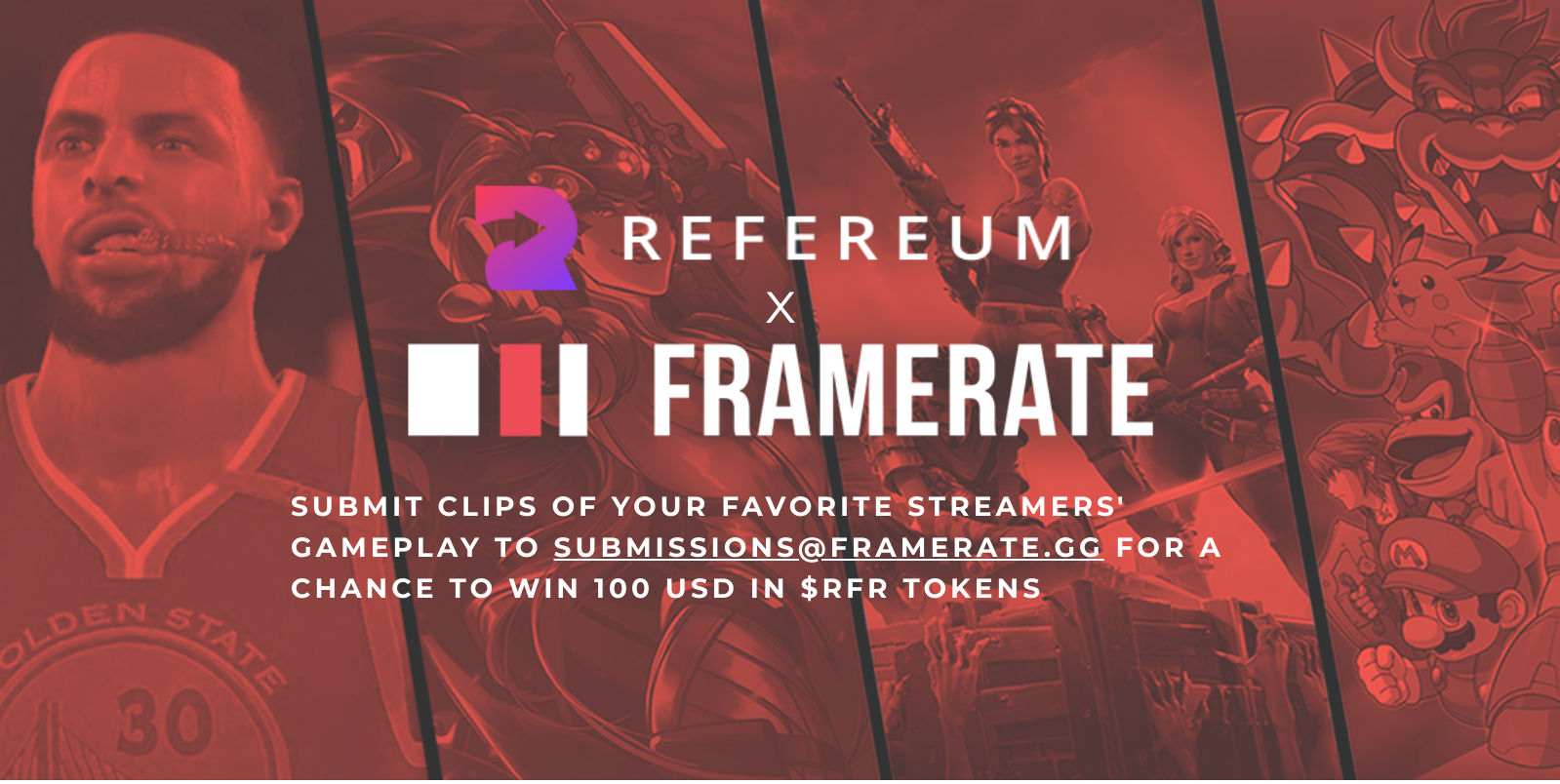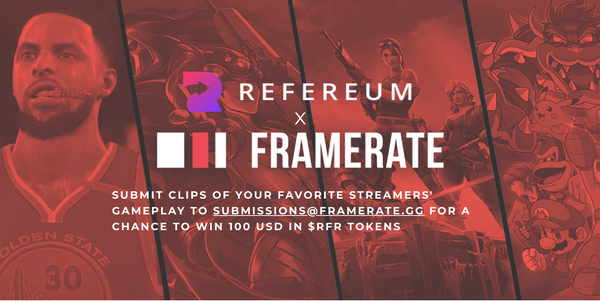 Refereum is taking our core belief that all gamers are influencers up a few (big) notches with Framerate and you. Starting today, gamers will be able to submit gameplay clips, tutorials, and highlights posted on Refereum and distributed as part of our wider marketing campaign powered by gamers  and made for gamers. Who doesn't love to watch sick 1v9 outplays, clutches, reactions to rare loot, or accidentally blowing up your own team?!?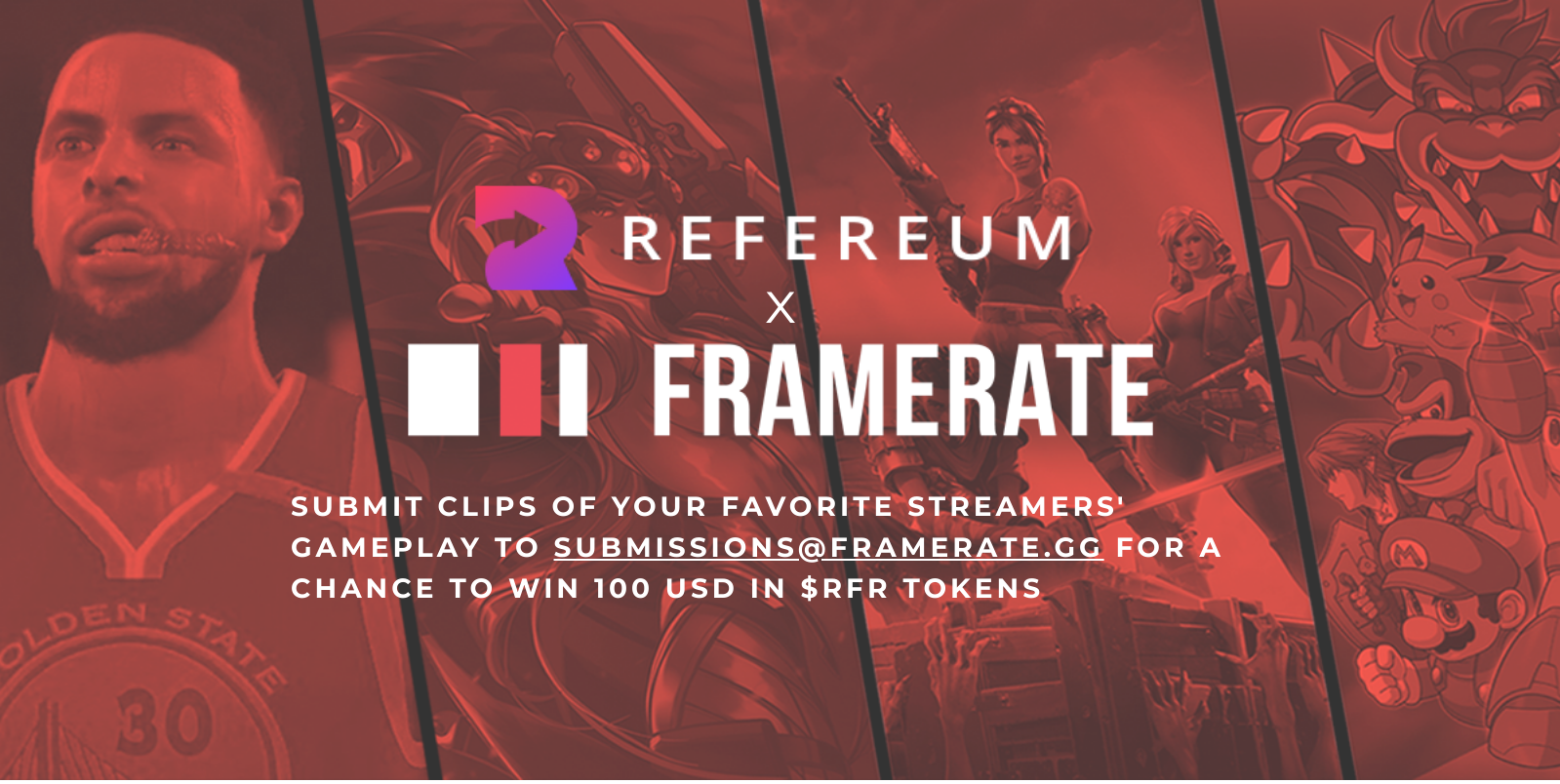 We're working with Framerate to produce high quality videos of our Refereum community in game and in action. Do you think your or your favorite streamer's gameplay is good (or bad) enough to get featured in our videos? Do you want to clip your favorite streamer and troll them in our next Refereum video? Just submit your clips to submissions@framerate.gg. Each week, one lucky submitter will receive $100 in $RFR sent to their Refereum wallet! The Refereum x Framerate campaign will be running on a weekly basis, with highlighted video content being posted on Refereum.com and Framerate's Instagram (@framerategg). Oh, and streamers can also submit clips of themselves!

How to submit clips to Framerate:
Make sure you have a valid Refereum account. If you don't, sign up is easy on Refereum.com!
Hop on Twitch, Mixer, DLive, or Refereum.com/creator, and enjoy watching your favorite streamer.
Identify your favorite moments and clip the video content. You can submit as many clips as you want!
Send all submissions to submissions@framerate.gg entitled "Refereum x Framerate submission" or submit them to the #framerate channel in the official Refereum Discord! Each week, one lucky submitter will also be receiving $100 in $RFR sent directly to their Refereum account!
Please follow this format when submitting clips:
Title: Give your clip a title
Description: What are we looking at in this clip?
Credit: How you'd like to be credited
Link: A link to where we can view and download the clip.
What is Refereum?
Refereum is a games rewards platform that rewards you for doing what you love — playing and engaging with your favorite games. By joining a hub on Refereum, you can earn prizes for completing quests — whether it's streaming a specific game or referring your friends, you'll accumulate points that can be redeemed for rewards.

If you've got any questions about getting started with Refereum or you're looking for a new group of friends to game with, hop into our Discord — we're super excited to have you join the Refereum community. We can't wait to reward even more gamers for doing what they love.

What is Framerate?
Framerate is the largest gaming and esports media brand on Instagram and IGTV reaching almost 30M video views a month. As part of the Super League Gaming network, Framerate features original shows and the best in user generated content and highlights from today's top content creators and gamers showing off their skills, glitch reels and engaging moments in gameplay.