Earn your share of over 8,000,000 RFR & 800,000 CRE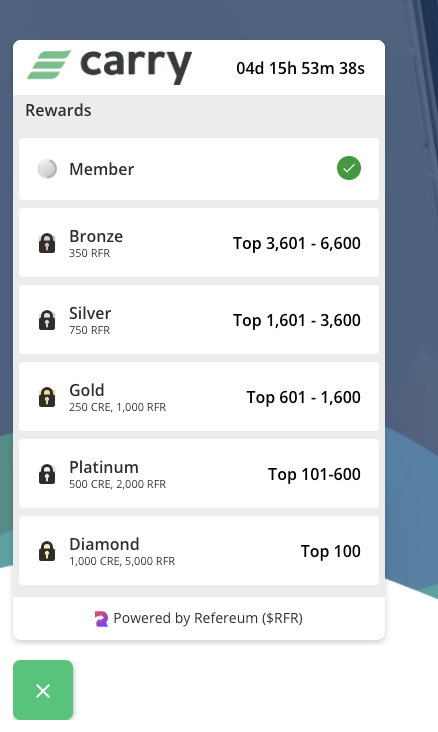 We announced our partnership with Carry Protocol last week and we're ecstatic to announce that our first campaign is live now. Starting today, 800,000 Carry Protocol (CRE) tokens and 8 million Refereum (RFR) tokens are up for grabs on CarryProtocol.io via the Refereum Growth Engine.
How can I earn my share of tokens?
Head over to https://carryprotocol.io, sign up on the Growth Engine, and complete actions like sharing content, linking your social accounts, and referring friends to the Carry Protocol community. The more actions you complete, the higher up the ranks you'll move. Bookmark the page, set an alarm, do whatever you have to do to make sure you check back regularly to complete actions!
About Carry Protocol:
Carry Protocol's mission is to bring blockchain to offline retail. It's a way for consumers to take control and receive compensation for their offline transaction data, and a way for merchants and advertisers to target their ads more effectively with consent.
Carry Protocol is one of Korea's top crypto projects. It was started by the founders of Spoqa and creators of Dodo Point, Korea's largest loyalty rewards platform for real-world transactions in stores. As of 2019, 18 million people have already earned Dodo Point rewards in more than 10,000 stores in Korea. Carry Protocol will initially integrate with Dodo Point; integration with other companies and expansion into other countries is currently in the works.
About Refereum Growth Engine:
The Refereum Growth Engine a turn-key widget ideal for any crypto company or game studio to use for growing, mobilizing, and rewarding their community. This widget allows Refereum partners to directly reward their most active community members for their engagement and interactions with tokens and other prizes.