Coral Protocol deploys the Refereum Growth Engine to build first of a kind Proof of Authority Network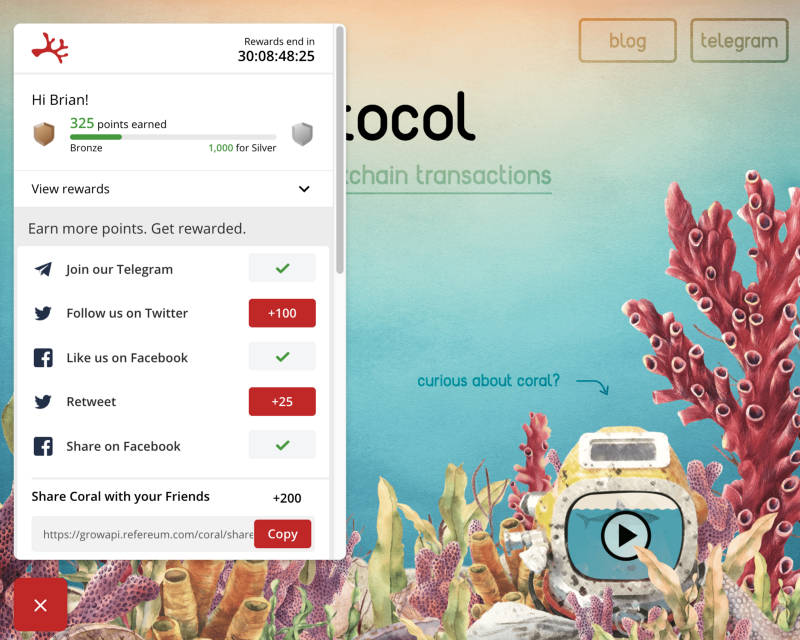 We first announced the Growth Engine a few months back, then we told you more about how it works. Now, it gives us great pleasure to announce our first set of partners using the product.
What is the Growth Engine?
It's a turn-key solution ideal for growing, mobilizing, and rewarding communities. The Growth Engine widget allows Refereum partners to directly reward their most active community members for their engagement, interactions and actions with tokens and other prizes.
How does the it work?
The GE widget is embedded on the partner's website with just a few lines of code. Setup is easy and anyone can quickly design and deploy a series of quests, like micro-tasks, for users that are fun and easy to do. Each task is aimed at growing the community and strengthening the relationship between the company and its members. Partners can also amplify their content schedule by syncing it with the Growth Engine and incentivizing the sharing of fresh content. To further incentivize engagement, partners can set a deadline for when a set of activities must be completed.
One of our goals at Refereum is to combine the awesome power of our Growth Engine with projects we care deeply about enabling the rapid growth of a strong community to set them on the road to success. Coral Protocol is partnering with Refereum to build their Proof of Authority Network.
What is Coral Protocol?
Coral is a layer 2 anti-fraud protocol that protects consumers and businesses from blockchain scams. By graphing every blockchain transaction and using proprietary predictive analytics, Coral identifies the likelihood of fraud and tracks the flow of fraudulently obtained funds/tokens. An anonymous, address-level trust score is generated before tokens are sent, enabling token senders to prevent transfers to questionable or fraudulent addresses. Coral delivers fraud alerts for, and prevents money laundering through exchanges, wallets, dApps, banks, blockchains and e-commerce companies.
What challenge is Coral set out to solve?
Blockchains secure transactions, the Coral Protocol adds a confidence layer to blockchain wallet addresses. This is essential for widespread adoption and regulatory compliance. Crypto fraud is an epidemic preventing the mainstream adoption of blockchain. Coral's anti-fraud protocol aims to create trust and prevent fraud in cryptocurrency transactions by assigning anonymous, address-level trust scores for wallet addresses. Coral wants to build a community that cares about credibility, so that bad actors have a harder time doing bad actions. We call this our Proof of Authority Network.
What kind of community is Coral's team aiming to build?
In the future, when Coral's anti-fraud protocol is ubiquitous, our community will be made up of good actors who prove authority over their blockchain addresses and maintain positive transaction history. Right now, spinning up a new blockchain address is a neutral action. A fraudster can spin up address after address for their schemes, because having no transaction history is not a red flag. Coral's community of credible transactors will shift the trust paradigm so that an address with no history is a negative rather than a neutral. Ultimately, this will make it easier to spot and stop fraudsters, which will open the doors for mainstream blockchain adoption. This is the Coral Proof of Authority Network. When you join Coral's Proof of Authority Network you earn rewards for building a stronger, safer blockchain ecosystem.
The credibility of Coral's community creates a baseline for trust where blockchain users are incentivized to anonymously prove themselves trustworthy and maintain their reputation.
David Kuchar, CEO & Founder
To join the Coral Proof of Authority Network via the Refereum Growth Engine click here.
To learn more about how you can use Refereum's Growth Engine, contact us at: growthengine@refereum.com