Our Latest Featured Hub is Conan Exiles!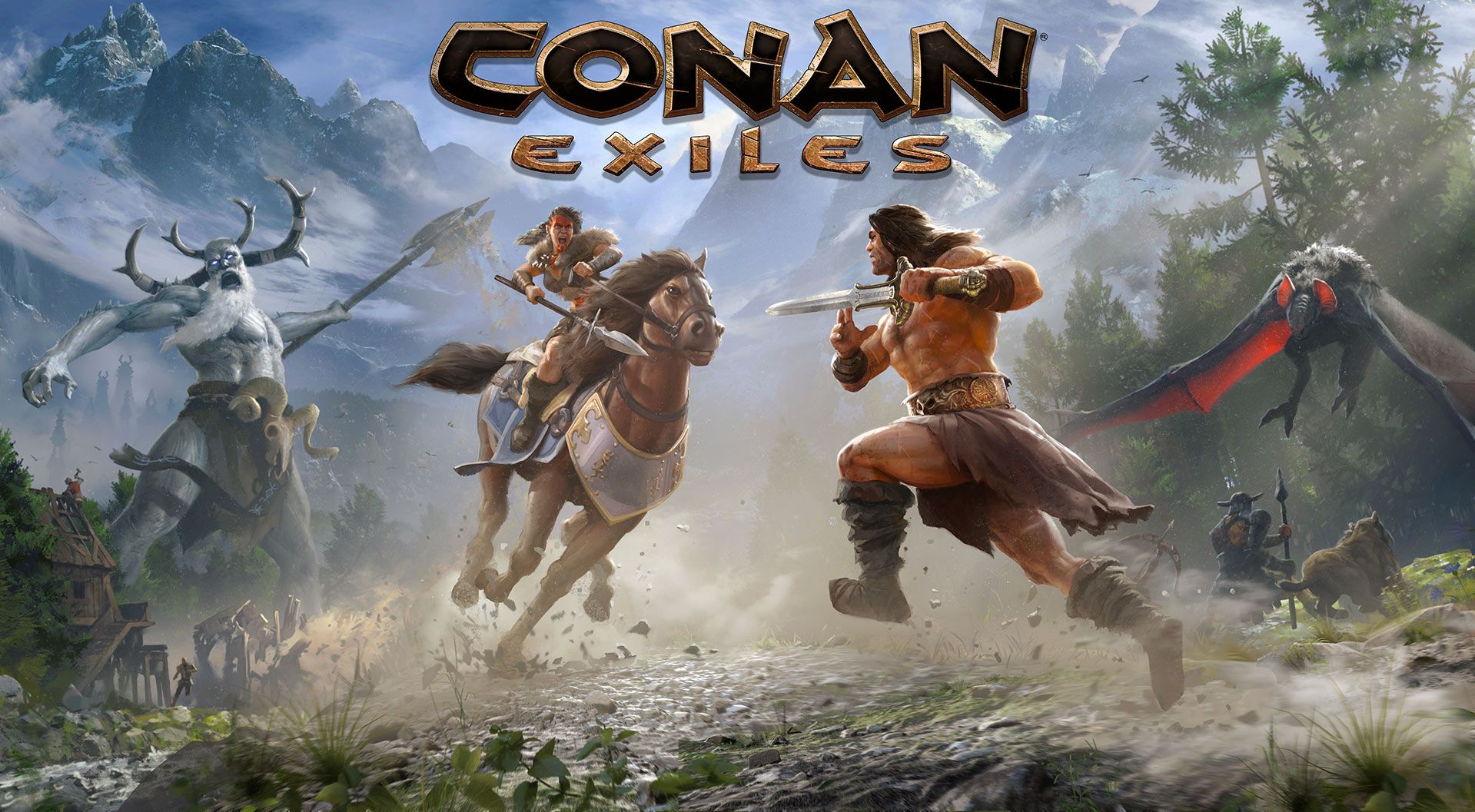 Our latest featured hub is Conan Exiles, and we're giving away over $5,500 USD in digital keys and expansion packs in the Conan Exiles hub! We're also hosting a Conan Exiles giveaway on Twitter (ends on 2/21) so don't miss out on all the rewards!
Winning prizes in the Conan Exiles hub is extremely easy! All you have to do is watch, stream, or engage with the Conan Exiles community in order to earn points. Join our Conan Exiles hub here and start earning rewards in a variety of different methods: refereum.com/game/conanexiles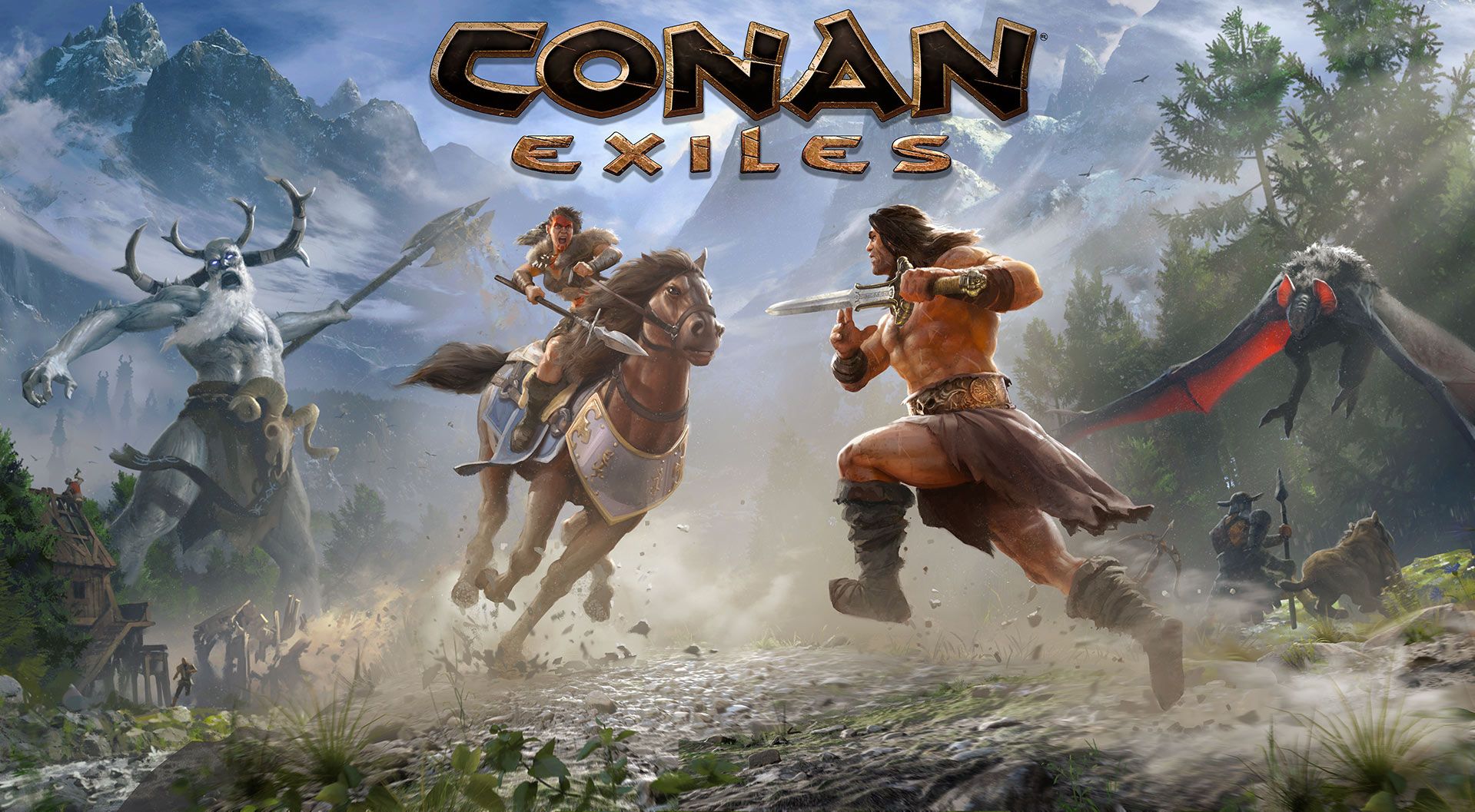 Ways to earn Rewards Chests in the featured Conan Exiles Hub:
Join the Conan Exiles hub and watch streams to receive Conan Exiles Reward Chests.
Watch Refereum partnered streams to earn more rewards chests.
Refereum partnered streamers will have a higher drop rate for better rewards.
You can earn progress for both Conan Exiles hubs and a partnered streamer's hub at the same time, meaning DOUBLE REWARDS.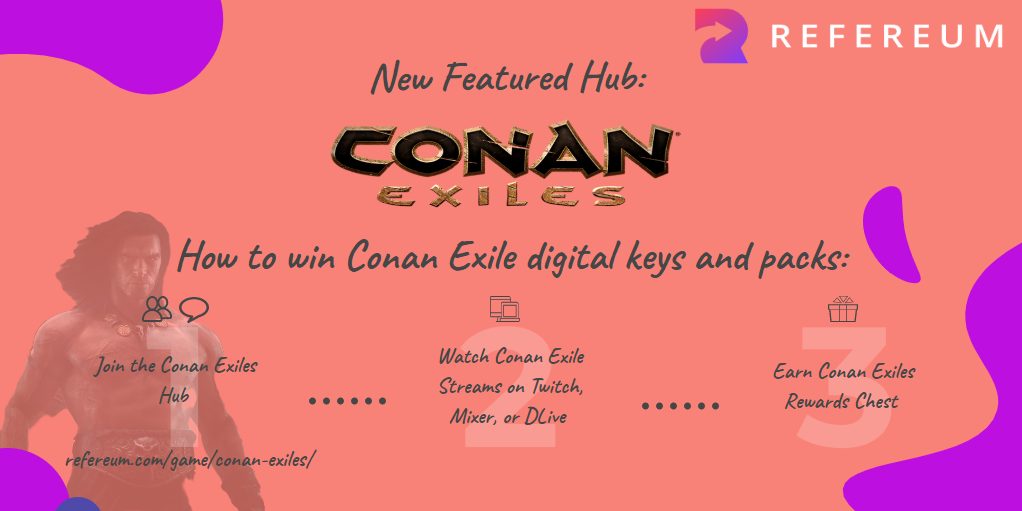 How does this work?
Refereum partnered streamers interested in playing our featured games can choose to stream Conan Exiles to their fans. As they are streaming the game, their hub will include rewards crates from the Conan Exiles hub. Viewers can now watch the Refereum partnered streamer to earn Conan Exiles Rewards Chests along with participating in the streamer's hub to earn more rewards! The partnered streamer's hub generally includes rewards such as rewards chests, gift cards, digital keys, game play sessions, and more! This means, you'll be eligible to earn even more rewards!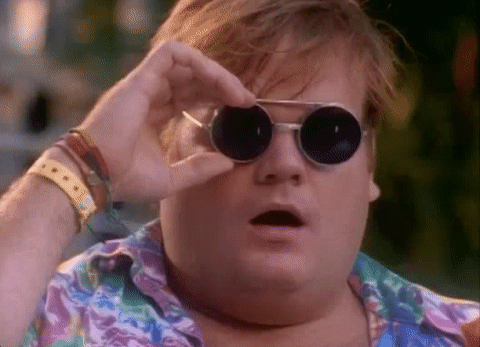 The awesome prizes up for grabs in the Conan Exiles Rewards Chests:
Conan Exiles (Standard Edition)
Treasures of Turan (Expansion Pack)
Seekers of the Dawn (Expansion Pack)
Savage Frontier Pack (Expansion Pack)
Riders of Hyboria (Expansion Pack)
Blood and Sand (Expansion Pack)
Debauchery of Derket (Expansion Pack)
Imperial East (Expansion Pack)
Jewel of the West (Expansion Pack)
We're also doing a giveaway (ending on 2/21) on Twitter to celebrate the new hub! Three winners will receive a FREE key to Conan Exiles, all you have to do is:
1️⃣Follow @Refereum & @ConanExiles on Twitter
2️⃣Like the Tweet
3️⃣Retweet the Tweet
What is Refereum?
Refereum is a games rewards platform that rewards you for doing what you love — playing and engaging with your favorite games. By joining a hub on Refereum, you can earn prizes for completing quests — whether it's streaming a specific game or referring your friends, you'll accumulate points that can be redeemed for rewards.
If you've got any questions about getting started with Refereum or you're looking for a new group of friends to game with, hop into our Discord — we're super excited to have you join the Refereum community. We can't wait to reward even more gamers for doing what they love.
What is Conan Exiles?
Conan Exiles is an open-world survival video game developed and published by Funcom for Microsoft Windows, PlayStation 4, and Xbox One. The game is set in the world of Conan the Barbarian, with the custom playable character being rescued by Conan, beginning their journey. Survive in a savage world, build your kingdom, and dominate your enemies in brutal combat and epic warfare.
Start with nothing but your bare hands and forge the legacy of your clan, building anything a small home to gigantic fortresses and entire cities. Wage war using swords, bows, siege weapons, and even take control of giant avatars of the gods and lay waste to enemy cities.  
Explore a vast, seamless world full of challenge and opportunity. Hunt animals for resources, slay monsters for treasure, and delve deep underground to discover the secrets of ancient civilizations. Conan Exiles can be experienced in both local single-player and in persistent online multiplayer.