Battlefield Hype Week is back! Stream for your chance to win a year of ORIGIN Access Premier, Battlefield V Deluxe Edition on PC, and more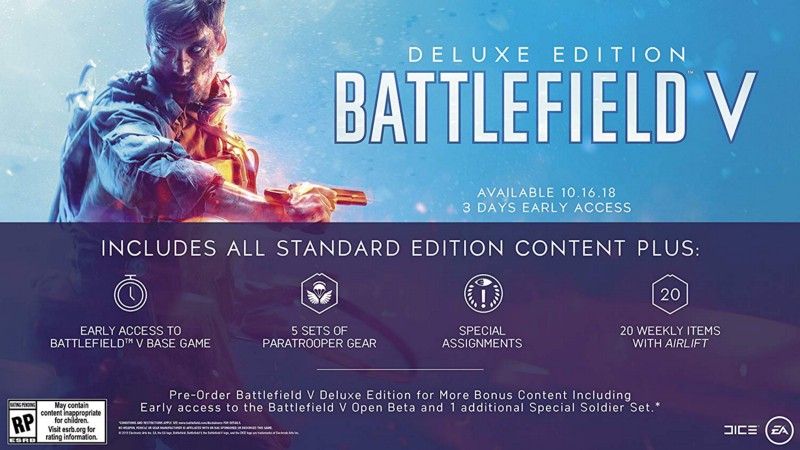 We're teaming up with EA DICE to host TWO Battlefield Hype Weeks. That means you can join in on just one or BOTH Hype Weeks, each with its own set of prizes. We're looking for our battle-tested warriors to put in some serious streaming hours. There's no rest for the wicked, soldier!
Your marching orders are in, and it's time to deploy!!
Battlefield #HypeWeek is split into 2 weeks this time! If it's your first week of hype, here's a quick refresher about how to get started with Refereum. Ready? Here are the details you need to know.
Hype Week 1 "Battle for Battlefield V Open Beta"
Battle for Open Beta in the first Hype Week! If you're new, make sure to register, connect your Twitch account, and register as a streamer on refereum.com. To qualify, stream Battlefield 1 from Tuesday, August 21st at 2PM PDT to August 27th midnight PDT.
The top 100 streamers win Battlefield V Open Beta Early Access pre-order codes.
Hype Week 2 "Battlefield V Open Beta"
You'll need access to the Battlefield V Open Beta in order to participate in Week 2. Winners from Week 1 and anyone who pre-ordered Battlefield V (or has access otherwise) can enlist and compete in the streaming action from September 5th at 2pm PDT to September 11th at midnight PDT.
Now onto the good stuff… the Week 2 prizing:
The top 10 Streamers get a download code for Battlefield V Deluxe Edition and (11), that's right ELEVEN, Origin Access Monthly codes. We see these as a great way to thank your viewers. Take 1 for yourself and use the other 10 to reward your die hard fans (ARV of $14.99 each)
Top 11–20 Streamers get (1) Origin Access Premier Year code (ARV of $99.99 each)
Top 21–30 Streamers get (1) Origin Access Premier Monthly code (ARV of $14.99 each)
The Fine Print.
To be eligible for Weeks 1 and 2, you must be an active Refereum user, have Twitch activated on your profile and be in the specific countries our partners have approved. Your hours streamed and the amount of views you have add up to your total hours watched score for the leaderboard. You won't be earning any points for engaging in this specific EA DICE/Refereum competition.
If Battlefield isn't your thing, you can always complete Quests as usual while the other are competing for bigger prizes.
If you haven't signed up for Refereum yet (what's wrong with you?) and want to participate in this Hype Week, sign up on refereum.com now!