All you need to know about Hype Week + partner reveal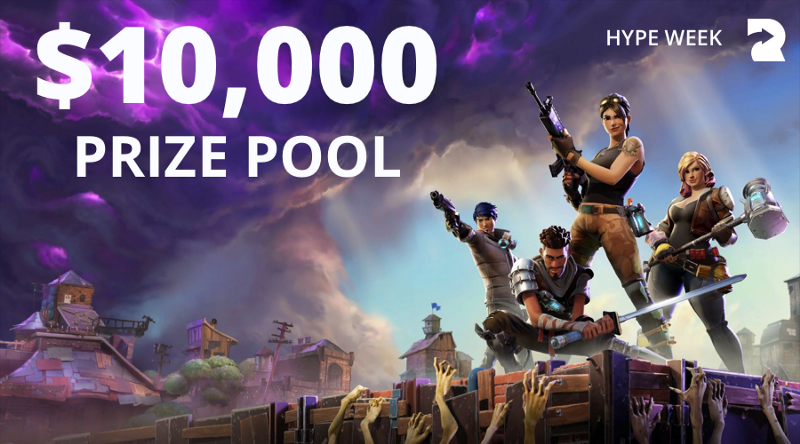 Our first ever Hype Week is presented by the current most streamed game on Twitch, Epic Games' Fortnite!
Refereum is teaming up with Fortnite again! We're introducing a new way to put money in YOUR pocket for doing what you love doing: playing and streaming Fortnite!
Here's how it works…
Epic's Hype Week will have two quests running at the same time, both for Fortnite. Each quest will have a prize of $5,000 — that's a total prize pool of$10,000 USD cash money.
The first quest is to make it into the Top 5 for hours watched. That's hours streaming Fortnite multiplied by viewer count (in a 24 hour period). At the end of each day, during the quest, the top 5 participants who have the most watched hours will take a share of the winnings from the $5,000 prize pool. The leaderboard will reset every day for the duration of Hype Week. You can win multiple times per week.
You must flag yourself as a streamer and be a Refereum user to be eligible to play for this quest. And, of course, you have to be streaming Fortnite!
The second quest in Hype Week is to be one of the Top 5 referrers of free Fortnite downloads for the week. The Top 5 users who refer the most downloads of Fortnite by the end of the week will take home $1000 in cash.
To be eligible for this quest, you must be a Refereum user and refer Fortnite to your friends using your unique referral link! If you're also streamer, you can compete in both quests.
*Hold up* so I can win money by streaming Fortnite? Uh, yeah, we said this was cool.
I'm in. When does it start?
We will kick off Hype Week and launch Season 4 on May 01, 2018 7pm PDT.
That means we are closing out Season 3, and the official last day of Season 3 will be this May 1, 2018 6:59pm PDT. Please make sure to get your correct ETH address in by then!
Refereum peeps can still gain points like normal when we begin Season 4! Hype Week is a bonus contest with exclusive prizes during the week of May 1–7. We're giving you all a chance to kick off your summer with a bunch of points AND money — because that's what we're all about!
If you haven't signed up for Refereum, but want to participate in Season 4 + Hype Week, sign up on Refereum.com!